Zayed Higher Organization (ZHO) is the strategic partner to the "Lema?" initiative, which aims to provide educational experiences to all students alike, regardless of age or ability, and aims to inspire youth to learn more about STEM through providing the necessary insights and skills.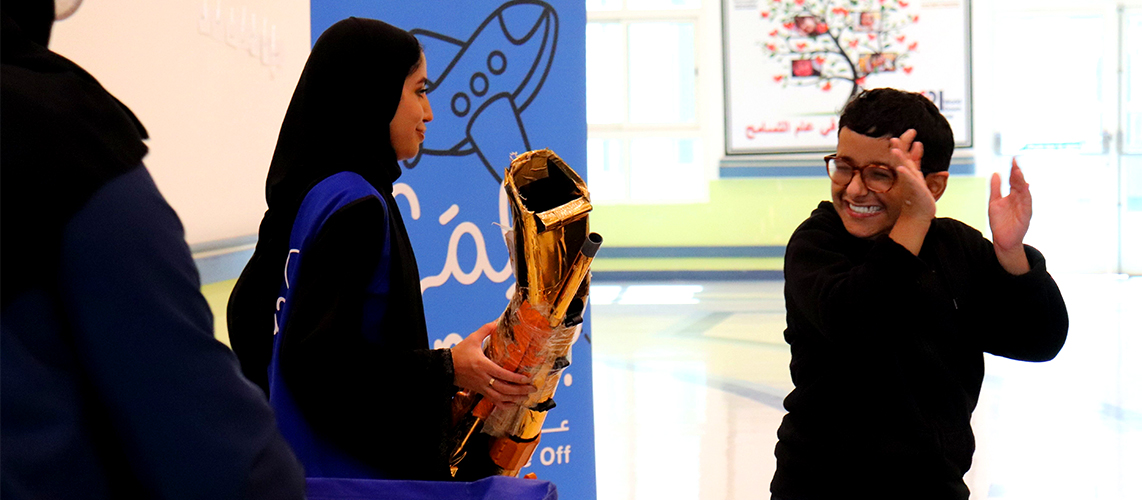 Zayed Higher Organization (ZHO) students empowered with new learning methods in Science, Technology, Engineering and Mathematics (STEM).
Lema? tour introduces interactive and educational shows to students of determination at Zayed Higher Organization (ZHO).
Students take part in tailored shows of four popular shows – 'Incredible Medical', 'Crazy Chemistry', 'Prepare for Take Off' and 'Energy Future.'
Lema? a STEM led educational initiative organized by the Abu Dhabi Department of Education and Knowledge (ADEK), in partnership with Mubadala Investment Company, visited Zayed Higher Organization (ZHO) to deliver "Lema?" shows to students of determination, where a team of science communicators delivered the fun side of STEM (Science, Technology, Engineering and Mathematics) through a series of interactive experiments and events.
Eng. Sanad Ahmad, Chairperson of the Students Enrichment Programs Committee at ADEK, commented: "Lema? is committed to nurturing different potentials amongst young students through unique and unconventional learning methods. It is an effective educational vehicle that complements what is being taught in classrooms, with an aim to equip all students of the Emirate with the skill sets needed for the 21st century, including students of determination. Every individual student is bestowed with a talent and it is up to schools and educators to unlock that particular talent".
"ADEK's priority is to witness a healthy, knowledgeable and engaged generation of youth, and that can only happen through empowering all students alike. Projects such as Lema? have had a lasting impact on students, and an even bigger impact and influence on students of determination. "Lema?" provides an all-inclusive opportunity to explore STEM related topics in a collaborative, fun and interactive way, which caters to all levels of learning abilities" Eng. Sanad added.
Aimed at students in Grades 3 to 7 and held over the course of six weeks, three times a year, the "Lema?" program offers Arabic and English interactive shows and events to both public and private schools.
The latest edition of the "Lema?" tour features a new show called 'Incredible Medical' that takes participants through some of the latest techniques and technologies used in the medical industry. The "Lema?" tour uses the expertise of science communicators to help young students explore the unusual side of science, technology and other STEM subjects.
Through this new show, the program explores the different career opportunities available within the medical field and addresses the importance of a healthy diet to avoid health related issues such as diabetes, obesity and others.
Since its launch in 2012, "Lema?", which means 'why?' in Arabic, has sparked a love of science, innovation and learning amongst thousands of students, including students of determination, who have taken part in its interactive shows across the Emirate of Abu Dhabi.