Recognizing the importance of higher education institutions in driving economic and social growth in the United Arab Emirates, the government has launched the National Strategy for Higher Education 2030 with the aim at placing higher education in the UAE among the world's top institutions, by developing innovative education systems, enhancing students' skills and benefiting from successful global experiences while continuously adapting them to better suit the needs of individuals and the future needs of the country.

To achieve this vision, The Department of Education and Knowledge has put in place policies, regulations and procedures that guarantee quality in educational programs, regulate Higher Education Institutions in Abu Dhabi and raise the quality of education opportunities offered. As well as guide and assist students in accessing higher education that follows international standards and contributes to enhanced productivity and competitiveness.
To that end, ADEK Higher Education Sector aims to:
Develop policies, administrative and disciplinary regulations for higher education institutions in Abu Dhabi.
Elevate the quality of higher education for all students regardless of their abilities
Create an environment conducive to scientific research and innovation to emulate global developments.
Monitor and analyze labour market needs and guide students to identify future careers aligned with current and future market needs.
Encourage investment in Higher Education
Attract international and local Emirati students to study in Abu Dhabi.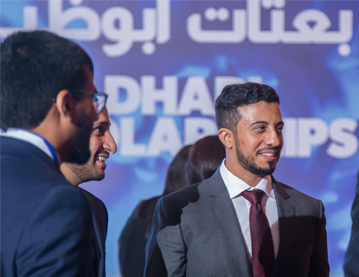 Abu Dhabi Scholarships
Abu Dhabi Scholarships is a premier destination for Abu Dhabi outstanding students. It provides an end-to-end student journey from applying for a scholarship to finding a job through selection and placement of scholarships students, early preparation programs, academic guidance, social wellbeing to career guidance.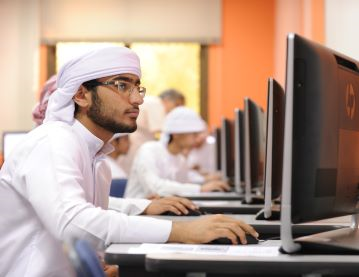 Invest in Higher Education
The Department of Education and Knowledge encourages building and maintaining partnerships with leading experts and service providers in higher education. It has done so by creating a conducive environment that facilitates and encourages investments in the sector.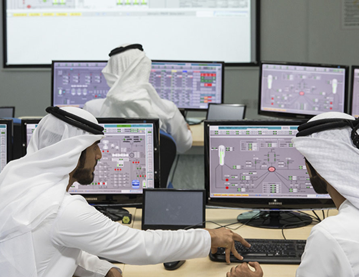 Research and Development
ADEK works with all stakeholders involved from government agencies to academia and relevant industrial sectors to build high quality and sustainable system for research and development in Abu Dhabi.
A country's greatest investment lies in

building generations of educated and knowledgeable youth