The innovative science and technology roadshow "lema?" returns for Academic Year 2019/2020 with the aim of reaching 40,000 students across schools in Abu Dhabi, Al Ain and Al Dhafra region.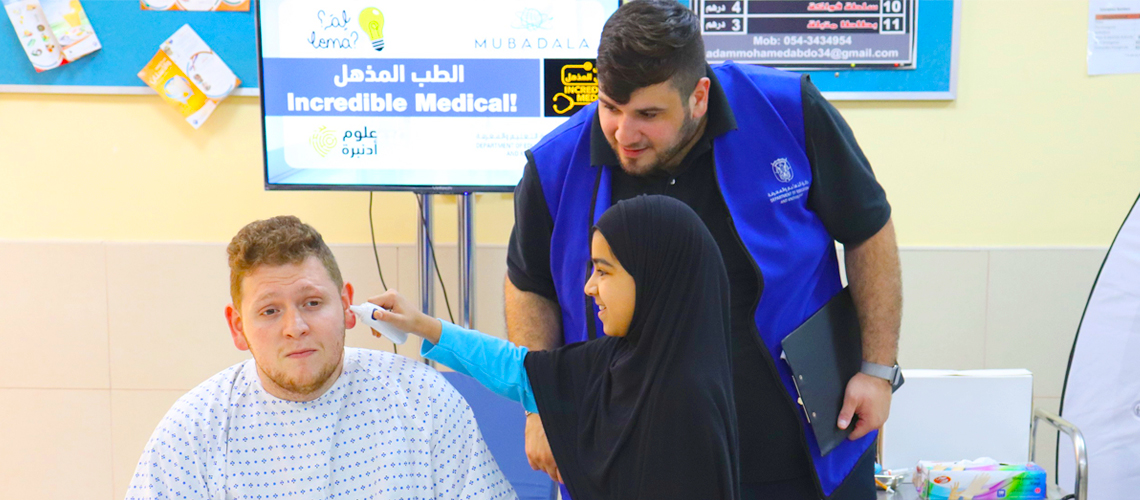 More than 40,000 students in Abu Dhabi, Al Ain and Al Dhafra region will take part in Trimester One of the popular 'lema?' tour
The brand-new informative science show - 'Incredible Medical' - highlights skills used by medical professionals, demonstrating possibilities of various careers in the healthcare industry
Through the dynamic show, students will discover how medical experts use blood tests and scans to diagnose diseases as well as learn the function of antibiotics
The first trimester of tour sees the launch of a whole-new show that boosts interactive learning called 'Incredible Medical' that turns young students into medical detectives.
Expert science communicators take the young scientists on a journey through the different techniques and latest technologies used in the medical industry within their own classrooms and schools.
Through this new show, 'lema?' gives students an opportunity to experience the medical field firsthand, educates children on the different career possibilities within the medical field, and lays the foundation on how to become professionals in the industry through interactive events.
'Incredible Medical' focuses on the latest and most exciting technologies used in the field, such as x-rays, MRI scans and blood tests, while also addressing the importance of a healthy diet to avoid diabetes and the dangers of antibiotic resistance.
Aligned with school curriculum outcomes, the new and exciting show helps participants outline how major body systems and organs are affected by change and describe how lifestyle choices affect health.
Students also identify that medical professionals can diagnose different diseases using a variety of tests and learn the practical use of magnetism in an MRI machine to create detailed images of the inside of a patient's body.
Aimed at students in grades 3 – 7, the 'lema?' tour uses the expertise of teams of science communicators to explore the strange, quirky and fun side of science, technology, engineering and mathematics (STEM) subjects with young students at schools across the Emirate of Abu Dhabi.
Developed and operated by the Abu Dhabi Department of Education and Knowledge (ADEK) with the support of its Platinum Sponsor, Mubadala Investment Company, the lively 'lema?' tour combines education with entertainment, where students discover just how exciting, dynamic and fun science can be, and how it influences every part of our daily life.
Held over the course of seven weeks three times a year, 'lema?' brings Arabic and English shows and sessions across both public and private schools to inspire the next generation of leaders and innovators.
The 'lema?' initiative aims to inspire students to pursue future careers in STEM related fields and provide them with the necessary insights to develop these skills.
STEM subjects are at the heart of the UAE government's goal of creating an innovative and knowledge-based society by immersing students in a modern and well-rounded educational environment.
Since its launch in 2012 'lema?', which means 'why?' in Arabic, has sparked a love of science, innovation and learning in hundreds of thousands of students, including pupils of determination, who have taken part in its interactive shows.