Abu Dhabi's Higher Education Landscape
Abu Dhabi is developing a reputation as a destination for students across the Middle East and the world. ADEK encourages partnerships with leading experts and has created a favorable environment for investment.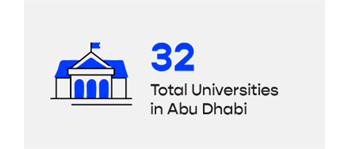 Why Invest in Abu Dhabi Higher Education?
Higher Education in the United Arab Emirates has benefitted from reforms in recent years, designed to further grow the market.
10 years Visa for "Exceptional" Students

This change makes the UAE a more accessible and sought-after destination for regional, expat and international students pursuing higher education.




High-Quality Universities

The aim is to elevate the quality of higher education for all students regardless of their abilities.
A National Drive Focused on Building STEAM Skills

Priority sectors, identified as important for the UAE's future job market include: Energy and Petrochemicals, Travel, Tourism and Hospitality, Manufacturing, Trade and Logistics, Financial Services, Technology, Media and Communications and Construction.




Constant Monitoring and Analysis

ADEK constantly monitors and analyzes labor market needs, market trends and guides students to identify future career opportunities.
Investing in Abu Dhabi's Higher Education Institutions
If you're planning to invest into Abu Dhabi's Higher Education system, here's how to get started. We support our investors through every stage:
Access to a growing market which is globally recognized as a low-risk investment market
Guidance and support through the licensing journey and beyond
How to Open a Higher Education Institution or Apply for New Programs
Your investment is key to shaping our future generation and their capabilities. To support you, we have mapped your journey below to provide you will all the key steps and information. Our Higher Education Authorization Portal facilitates ADEK's entire authorization process from the application stage to the final decision.
Step 1: Register

Visit the Higher Education Authorization Portal https://idamapps.adek.gov.ae and create an account.




Step 2: Submit your application

Submit your application with all the required documents. Your application review and approval will be reviewed within three weeks.




Step 3: Receive a No Objection Letter

Once your application is reviewed and approved, a No Objection Letter is issued. If your application is not approved, you can revise it, re-submit or appeal the decision.
Investment Opportunities in Other Sectors
Abu Dhabi provides interested education market investors a diverse range of opportunities and support to enter and expand their operations.

Learn more about investment opportunities in: