The safety and wellbeing of our students and all employees working in the education sector is a top priority for us. Due to the developing situation related to COVID-19, ADEK has partnered with various entities to take precautionary measures that ensure students and all employees remain safe.
This page provides you with answers to questions frequently asked by parents and students on how the education sector in Abu Dhabi is affected by the COVID-19 outbreak; in addition to guidelines that help parents and students achieve the best outcomes from distance learning, in a healthy and safe environment at home.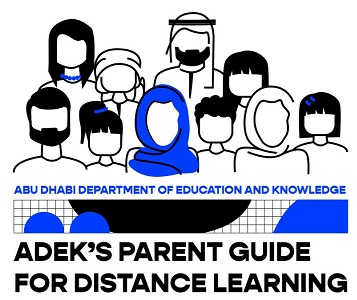 Parent Guide for Distance Learning
In this guide, you will find useful information that will support you during the distance learning period, such as strategies to help your child cope in this situation, what support you can expect to receive and how you can help your child during distance learning.

Social @ ِADEK
Schools may be out, but the fun never stops! Our Activity Platform is now live, and is filled with exciting chall… https://t.co/uBDqOCvWO0
Jul 16 15:01
ADEK_tweet
مجموعة متنوعة من الأنشطة والمسابقات بانتظاركم https://t.co/Fogm4uX81E تمكين_العقول #تمكين_التعليم# https://t.co/qV8pcbb8oC
Jul 16 14:41
ADEK_tweet
انتهى العام الدراسي، لكن #رحلة_التعليم_مستمرة! أطلقنا اليوم منصة الأنشطة، التي تجمع نخبة من روّاد مقدّمي الترف… https://t.co/NrRVYyWHYA
Jul 16 14:40
ADEK_tweet
Schools may be out, but the fun never stops! Our Activity Platform is now live, and is filled with exciting chall… https://t.co/uBDqOCvWO0
Jul 16 15:01
ADEK_tweet
مجموعة متنوعة من الأنشطة والمسابقات بانتظاركم https://t.co/Fogm4uX81E تمكين_العقول #تمكين_التعليم# https://t.co/qV8pcbb8oC
Jul 16 14:41
ADEK_tweet
انتهى العام الدراسي، لكن #رحلة_التعليم_مستمرة! أطلقنا اليوم منصة الأنشطة، التي تجمع نخبة من روّاد مقدّمي الترف… https://t.co/NrRVYyWHYA
Jul 16 14:40
ADEK_tweet
Last week, students discovered how studying in North America might benefit them. This week, we are on a virtual… https://t.co/INjB2AoxbZ
Jul 13 15:44
ADEK_tweet
تعرّف الطلبة خلال فعاليات المعرض في الأسبوع الماضي إلى أهم امتيازات الدراسة في جامعات الولايات المتحدة وكندا. وفي… https://t.co/dEzP08xCBF
Jul 13 15:42
ADEK_tweet