Space and Activity Management
General Space and Activity Requirements
Circulation Map: Schools shall carry out an inspection of their premises and plan a circulation map of the campus (see Appendix 4) based on the following guidelines :
One-way circulation is to be privileged and signaled through floor/wall markings. Where one-way circulation is not possible, two-way paths should be clearly marked to minimize crossovers.
Adopt easy-to-understand signage (i.e. signs, arrows, color signals [red/green for stop/go], etc.).
Identify bottleneck and waiting areas (staircase, elevator, entry to classroom, entry to bathrooms, entry into narrower hallways, etc.) where crowding is likely and create standing demarcations 1 m apart.
Indicate the maximum number of people who can be in a small enclosed space (ie. elevators, restrooms) simultaneously and use floor stickers to maintain physical distancing.
Hand sanitizers shall be available in every purpose-built space (such as a room indoors, or a play area if outdoors) throughout the campus.
Organize timings for breaks to limit crossover between classes and to minimize congestion in hallways and other circulation zones.
Keep doors open when possible (i.e. unless a fire hazard) to increase entry/exit flow and ventilation.
Supervise student group transitions and ensure physical distancing.
Provide clear guidance to Students of Determination, differentiated as appropriate, to ensure the safe movement of themselves and others around the school site. Adaptations to the protocol may be required to meet any specific needs of the individual; however, these should not result in increased risk to themselves or others.
Teaching in Classrooms
A classroom is a physical space purpose-built to host a class.
Workstations should be arranged so that students are positioned 1 m apart, chair to chair, and the same workstation should be used by the same student each day.
Shared tables must be demarcated so that it is clear where students should be seated.
A classroom may be occupied by one class at a time.
When a class is taught by an all-access staff, a teaching zone is recommended at the front of the class at a distance which is 2 m away from the nearest student workstations.
It is highly advised that students remain in the classroom, in designated seats throughout the day (except for breaks), and that teachers rotate in and out. However, this may not be feasible if students need to share facilities (i.e. labs, etc.), in which case only one class should be given access to that space at a time, with cleaning and disinfection between groups of students.
School supplies and materials may be shared between students provided students are regularly sanitizing their hands.
For classrooms of younger students, a receptacle (with lid or small opening to prevent access by students) should be set up for any items that have been exposed to/come into contact with biological fluids (saliva, mucous secretions) for cleaning and sanitization after class and prior to reuse.
Teaching in Large Converted Spaces
Schools are recommended to restore large converted spaces to serve their original purpose, unless their capacity limits require the continued conversion of these spaces for teaching purposes or for use as shared classrooms.
Large spaces, which are not regular classrooms (i.e. gym, canteen, etc.) may be converted and only be used by more than one class under the following conditions:
Each class has a separate access point.
A solid, non-transparent physical barrier of at least 1.2 m in height is installed between classes.
Students are placed at least 1 m from the barrier (so there is a space of 2 m, chair to chair, between any two students in different classes).
Spaces may only be shared if an appropriate learning environment can be ensured for each student, free of any noise and/or other disturbance/interference.
In order to accommodate Students of Determination, who may require additional support and guidance to access their learning, schools should consider the space available in classrooms to provide this, compliant with physical distancing guidelines. Schools may want to consider how students are grouped and how additional space can be utilized to ensure compliance with physical distancing guidelines.
Staff Activities and Shared Spaces
Staff-only spaces shall be set up with workstations 1 m apart, chair to chair.
Staff meetings and trainings may be held onsite/in person.
Coffee machines, water dispensers, and shared appliances may be used in staff rooms, provided disposable or personal cups are used and precautionary measures are practiced. A hand sanitizer should be made available near the appliances.
Playing and Breaks
Outdoor recreation spaces that are large enough to host multiple classes within the same macrobubble may do so under the strict supervised separation of these classes.
Playground equipment (i.e. slides, swings, etc.) may be used and shared within a class. Equipment shall be sanitized between different groups and students shall sanitize hands before and after breaks.
Students of Determination must be appropriately monitored and supervised to ensure appropriate physical distancing whilst outside to ensure the safety of themselves and others.
Adaptations to the agreed protocol for other students may be implemented to reduce risks to themselves and others and if appropriate, to the available resources/equipment. Students of Determination should have equitable access to play areas.
Managing the Use of Restrooms
A maximum number of students should be authorized at any given time to ensure that a physical distance of 1 m can be maintained. This maximum capacity should be clearly indicated on each restroom door.
Each handwashing station must be equipped with liquid soap, sanitizing wipes, disposable paper towels, and posters with effective handwashing and drying instructions.
Air dryers may be used.
Schools shall clearly instruct students and staff to dry their hands properly after handwashing as moist hands may breed germs.
Use of restrooms must be appropriately supervised for younger students.
Athletic Activities and Sports Facilities
Schools are authorized to reopen all athletic facilities for use during physical education (PE), extracurricular activities, and for private use by staff outside of regular school hours.
PE (including swimming) classes shall be reinstated, and all sports are authorized provided they are implemented with the relevant risk mitigation controls in place (see Figure 1).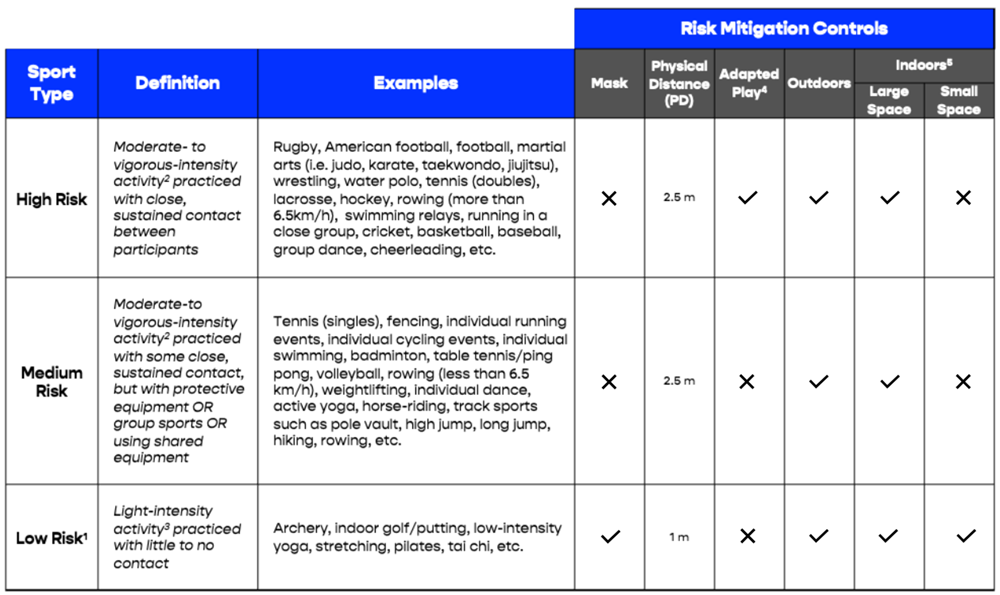 1. When outdoors or in a large space, low risk sports may be practiced with medium risk rules (no mask, 2.5 m PD).
2. Moderate- to vigorous-intensity activity = 3.0-6.0 METs or a perceived exertion of 5-8 on a scale of 0-10.
3. Light-intensity activity = 1.5-3.0 METs or a perceived exertion of 2-4 on a rating scale of 0-10.
4. Adapted play: Requirement to be played with a modified game plan (i.e. no contact, focus on drills, strength-training, socially distanced ball-throwing, etc.).
5. Small indoor spaces are ONLY permitted for low risk sports. Ventilation measures are required in all indoor spaces, via air dilution (open window/doors & use of fans), filtration (i.e. HEPA filter), and/or purification (i.e. upper room UVGI).
High- and medium-risk sports may only be practiced in the following venues:
Outdoors (preferably)
Indoors in spaces large enough to accommodate 2.5 m physical distancing (equivalent to 6.25 sq. m. per person), such as a gym.
Small indoor spaces may only be used for low-risk activities.
Masks shall be removed for high- and medium-risk sports (provided strict adherence to the 2.5 m physical distance) as they hinder breathing and are germ-prone when wet. However, masks must be worn if practicing low-risk activities in small indoor spaces.
To minimize use of the changing rooms, school shall encourage the wearing of PE uniforms on PE days. When the use of changing rooms is required, schools shall enforce precautionary measures.
Parents shall sign a written consent form to authorize their child to partake in the following:
Swimming: parents may choose whether their child will participate in swimming during PE class. For students who will not be swimming, an alternative PE option shall be provided during PE class while others are swimming.
Mask-wearing when practicing sports: while not recommended, parents may prefer that their child wears a mask for high- and medium-risk sports.
Sports facilities may be accessed for private use by staff outside of regular school hours, provided the equipment is regularly cleaned after use, in adherence to macrobubble rules.
Sports facilities shall be regularly ventilated using the methods indicated.
Students of Determination must be provided with appropriate support as outlined on their IEP to participate in all school activities on an equitable basis as their peers. Where health and safety needs prevent this, alternative provision must be outlined on the IEP.
Cultural Activities and Facilities
All students are highly encouraged to participate in cultural activities to channel their creativity and maintain their wellbeing.
Cultural activities that are part of the curriculum such as the arts may also take place under the condition that physical distancing is implemented, and shared material is minimized and/or disinfected before and after use (i.e. paintbrushes, pottery wheels, etc.). Musical instruments that can be easily disinfected after use may be used (ie. percussion, strings). However, wind and brass instruments may not be shared, so students can bring their own or one must be assigned exclusively to that student after proper disinfection (see National Association for Music Education recommendations: https://nafme.org/covid-19-instrument-cleaning-guidelines/).
Students of Determination must be provided with appropriate support as outlined on their IEP to participate in all school activities on an equitable basis as their peers. Where Health and Safety needs prevent this, alternative provision must be outlined on the IEP
Practicing Extracurricular Activities
Extracurricular activities are organized activities that students can participate in that are external to the school curriculum such as team sports, clubs, private lessons. Activities can be athletic, cultural, intellectual, philanthropic, and/or social in nature.
Extracurricular activities, whether organized by the school or by an external provider, shall be permitted for students enrolled in the school only.
Schools shall conduct risk assessments of the different activities on offer to determine appropriate ways to implement them, ensuring that the regular precautionary measures are followed.
Any athletic activities must be implemented according to measures set out in the Sports Risk Mitigation Control (see Figure 1).
Students of Determination must be provided with appropriate support as outlined on their IEP to participate in all school activities on an equitable basis as their peers. Where health and safety needs prevent this, alternative provision must be outlined on the IEP.
Events and Gatherings
Events within the school consisting of large assemblies mixing different student groups are not permitted (i.e. morning assemblies, graduation ceremonies, etc.), and schools shall continue to perform the UAE National Anthem in classrooms.
School trips and interschool events organized by schools remain suspended until further notice. However, certain national-level events may be authorized, in which case such events and their organizational protocols will be communicated to schools.
Holding High-Stakes Exams
Unvaccinated Students who are 16 and above are permitted to physically sit high-stakes exams, provided the following:
They will only be allowed to enter the school premises on the day of the exam, with a negative PCR test result (the specific validity period will be communicated through circulars and based on the health situation at that given time).
They will have to be set up in a separate area from students who regularly attend school physically.
They may only be allowed in the school 30 minutes before the exam and can remain no longer than 20 minutes after exiting the examination area.
They must follow all other precautionary measures.
Details may vary depending on the specificities of each exam (i.e. exam requirements, materials to bring, examination protocol), however, schools shall adhere to the following common standards in the absence of guidance for specific exams.
Cleaning and disinfection of the exam room and prior to and after each exam.
Placement of contactless sanitizing hand gels and wipes at the entrance.
If possible, the room should have two separate access points: one for entry and one for exit.
Desks should be spaced 1 m apart, facing forward.
Temperature checks must be administered when entering the exam room (unless already completed when entering the school premises).
Signed self-declarations that examinees and invigilators do not have COVID-19 symptoms nor have been in close contact with any suspected or positive cases should be collected. If such is the case, medical clearance via testing is required. These must be placed upon the invigilator's desk upon entrance.
Only examinees, invigilators, and other persons authorized by the examining body may enter the exam room, subject to the health requirements for entry. Staff who already undergo routine testing shall be subject to the same PCR-testing requirements as visitors (proof of a negative PCR-test with 96-hour validity) for the purposes of exam invigilation. Invigilators who are also school staff should be in the same macrobubble as the examinees, if applicable.
No waiting is allowed within the exam room nor its immediate premises (i.e. within a school or an independent exam center). This applies to students who have completed their exams and anyone accompanying them.
Student identity check is mandatory for logging as well as fraud prevention purposes.
Food and Drink Facilities
Cooking on the school premises is authorized and schools are recommended to reopen canteens, if they were previously closed.
Food must be served by a designated staff member to avoid sharing serving utensils.
Canteen operations must adhere to the regulations set by Abu Dhabi Agriculture & Food Safety Authority (ADAFSA).
Vending machines for individually pre-packed food and beverages are allowed provided they meet sector requirements for safe use.
Students should be encouraged to bring a full bottle of water every day. For additional drinking water requirements, water dispensers are allowed for student use provided these are sanitized regularly and manned by a staff member during busy break times to ensure the least possible risk to students when filling their water bottles or using the plastic cups. This staff member will make sure that the students are wearing their mask and have sanitized their hands prior to touching the dispenser while ensuring strict compliance with precautionary measures.
Drinking fountains are strictly prohibited.
Where Students of Determination have additional dietary requirements that cannot be managed in line with guidance for other students, their specific needs must be considered as part of the risk assessment and discussed with parents. Any decisions and provisions made must be communicated to all appropriate members of staff.
Libraries
Schools are recommended to reopen libraries if they were previously closed.
Library staff are not required to wear gloves but shall regularly sanitize their hands.
Used books and other resources do not need to be disinfected and shall simply be quarantined overnight before being made available for circulation again, provided all parties are regularly sanitizing their hands when handling resources.
Sanitizing the resource is sufficient if recirculation is required before the quarantine period is over.
Prayer Rooms
Prayer rooms may be reopened. Each macrobubble may have its own prayer room provided it adheres to all the applicable measures defined by the General Authority of Islamic Affairs and Endowments (Awqaf).
All students must be supervised while using the prayer rooms.